Throughout the UK hardwood flooring is the preferred surface for sports halls, dance studios and multi-activity areas. Moran Floors are Junckers and Boen Approved Contractors. We work with their technical teams to ensure all of our work is carried out to 100% correct specification from sub floor to the finished product. We are able to help improve the life of the floor, with advice on maintenance programs to suit the needs of every customer's floor.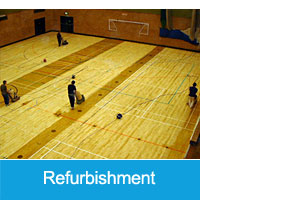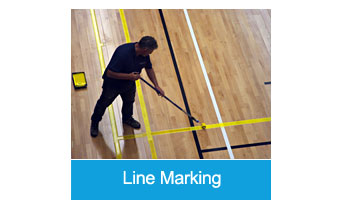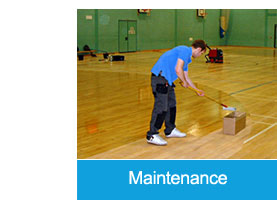 Under Structure and Sub Floors

Sub floor levels and finished floor height dictate the under structure required in a sports hall. if the sub floor has a difference no greater than 3mm over a 2 metre straight edge a sprung system such as Uno Batt 50 or Flexibatt can be used. If the sub floor has a greater difference than 3mm over 2 metre straight edge levelling systems e.g. New Era or Elevation are required.

Most projects are being completed on a tight time schedule, consequently most sub floors are still reading higher than 75% moisture content when the final floor covering is due to be laid. Moran Floors can provide additional damp proof membranes to ensure floors are installed to the required completion date, trouble free. On many of our projects under floor heating is installed between the battens before the finished floor is fitted.

Floor Coverings

Moran Floors are proud to be Approved Contractors to Junckers and Boen who are currently the two leading suppliers of sports flooring in the UK. We have used their products on numerous floors throughout the South West for major contractors including Willmot Dixon, Skanska, Cowlin, Keir, Balfour Beatty and Bam Construction

Line Marking

Moran Floors provide our own line marking service. This can be a bonus to main contractors on a tight schedule as no time is lost in the programme of work. We can provide line marking ranging from a single badminton court in a village hall to multiple courts coloured for their individual uses in a multi function sports hall.

Skirting and Threshold Strips

Changes in building's temperature and humidity can cause movement in timber floors. It is important that correct expansion allowances are made to perimeter walls and transition areas in doorways. Moran Floors are experienced in making these calculations. We supply the correct size skirting and threshold strips in a choice of timber, aluminium or stainless steel.

Bushings and Sockets

Bushings are removable access covers that provide a flush fitting in sports floors. They are designed to provide access to post hole sockets for a variety of sports equipment. Moran Floors provide the service of supplying and fitting bushings prior to sports equipment fitted.

Oil and Lacquers

After the sports court marking is completed a coat of lacquer is applied to the floor to protect the painted lines from wear. Moran Floors can provide annual inspections, advise and maintenance to keep floor in the good condition. We can also provide a re-sanding and refurbishment service when required.